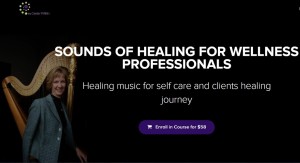 Healing music can play a unique role, augmenting one's self-care methods and contributing richness to one's personal healing journey. This experiential on-line course explores how music nurtures you.
Tami Briggs, therapeutic harpist, weaves together practical tips, powerful stories and plays musical examples, demonstrating music's role in wellness—for yourself and those you serve.
Tami Briggs is a pioneer in the harp therapy field. In the first graduate class of the International Harp Therapy Program in 1996, she is one of the longest tenured therapeutic musicians in the country. She draws upon this breadth and depth of wisdom as she instructs via live or on-line.
Upon completion of this course, you will:
Explore musical applications that support your wellness practice, and optimize you and your clients' well-being.
Discuss the benefits of incorporating sound healing in your wellness practice.
Experience a musical journey where you can reflect, relax and renew, with specific applications to the healer's personal journey and self-care.
What participants have said about the Sounds of Healing for Wellness Professionals program…
"Thank you, Tami, for creating this course. It reinforces the material that is taught in National Standards Board for Therapeutic Musicians (NSBTM) accredited training programs. Your music provided very effective demonstrations of the concepts of the lectures, and the stories gave real-life perspectives. Well done!"
"Beautiful. I will definitely use this information. Thank you."
"Tami, your lecture was great. Thanks for sharing your gifts and talents. You always play in such a way that makes me calm and at peace with myself."
"I loved your video lecture on comfort. The stories you shared are inspiring! And the harp music is to uplifting."
"Thank you for this amazing lecture, Tami!"
"I recommend Tami's work. This on-line course is good for self-care knowledge and for those who work in the ministry of healing and hope."
For more information about this on-line offering, please contact us.