SOUND CARE FOR YOURSELF AND THOSE YOU LOVE
Experience an oasis of relaxation, reflection and rejuvenation! This unique session will nurture your spirit as you move from busy-ness to calm and deep relaxation. Tami leads you on a musical journey to inner peace, focusing on your self-care and helps you set a beautiful tone for your daily life.
Participants will: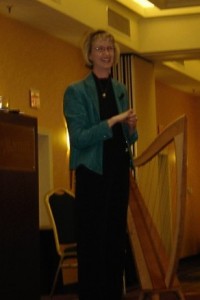 Explore how using music with intention can have a profound impact on their lives.
Learn musical principles and practical tips to apply to their everyday lives.
Experience a musical journey and experientially feel music's healing role.
What participants have said about the Sound Care for Yourself and Those You Love program…
• "It was relaxing, peaceful, restful and a wonderful way to end the day. This was excellent!"
Mayo Clinic Quest for Quality; Rochester, MN
• "Your session was powerful, energizing and amazing. I could feel the energy from everyone attending. Tami is an excellent speaker whose presentation leads me to think about my life and where I want to be. Her harp music enhanced the presentation to allow moments of contemplation."
Minnesota Nurses Association Day of Self-Care; Minneapolis, MN
• "You brought me back to centering again and renewing my inner peace."
Retreat at The Remembering Place; Gretna, NE
• "Tami is a very relaxed speaker and her presence is beautiful. Totally non-commercial, but very committed to her life work."
Clara Barton Colloquium; Great Bend, KS

Program Structure
Presentation is experiential and includes:

Lecture, selected readings, interactive discussion, questions and answers.
Meditative, live harp music as a self-care tool for stress reduction, relaxation and renewal.

Target Audience

Health care providers (eg., nurses, doctors, chaplains and pastoral care, social workers, etc.)
Patients and families/caregivers
Volunteers
Bereavement and grief/loss counselors
Women's groups
Support groups
Cancer survivor groups
Church groups (eg., BeFrienders, Stephens Ministry, etc.)

Participants do not have to be musicians or have any expertise in music to attend.

Suggested Scheduling

National health care conferences
State health care conferences
Stress reduction/relaxation sessions
Days of wellness or holistic health
Workshops on self-care
Recovery centers
Spas and retreat centers
Support and survivor's groups
Church retreats

Length
One to two hours.
For more information about our presentations, or to schedule a presentation, please contact us.