THE PARKINSON'S JOURNEY AND MUSIC'S ROLE
This special session describes music's role for Parkinson's patients, families/caregivers and the attending staff. In this poignant presentation, Tami shares her personal and professional experiences with this disease – she was a primary caregiver to her dear uncle who had Parkinson's/dementia; her father also has Parkinson's. Intertwined with live harp examples, her powerful stories are reflections on the special moments, the sorrows and the lessons learned during the caregiving journey.
In this session, participants will: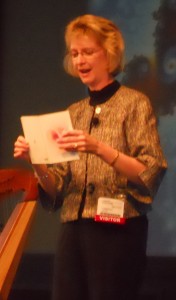 Learn how the benefits of therapeutic music can be used effectively with Parkinson's patients.
Experience how healing music can help create a sacred environment for those touched by the Parkinson's disease.
What participants have said about The Parkinson's Journey and Music's Role program…
• "You spoke so eloquently from your heart and I could relate to every word of your presentation. Thank you for sharing your journey to ease my journey."
Caregivers of Parkinson's Patients Luncheon; Minneapolis, MN
• "She is very passionate to help those afflicted with this disease and those who give care to Parkinson's patients. She brings a unique personal and professional perspective. What a wonderful resource … I am buying her CDs!"
State-wide conference on Parkinson's and Using Complementary Care; Tulsa, OK

Program Structure
Presentation is experiential and includes:

Lecture, interactive discussion, questions and answers.
Meditative, live harp music as a self-care tool for stress reduction, relaxation and renewal.

Target Audience

National conferences on Parkinson's
State conferences on Parkinson's
Staff education courses (CEUs)
Events for caregivers
Parkinson's patients and families/caregivers
Support groups

Length
One to two hours.
For more information about our presentations, or to schedule a presentation, please contact us.