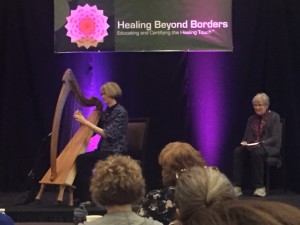 I keynoted at the Healing Beyond Borders' (HBB) international conference in August 2017. Their conference theme was "The Next Harmonic." When I learned of this theme, I immediately thought, "They definitely need the harp for any discussion about harmonics … without any doubt, this is in my wheelhouse!!"
The harp is one of, if not the most, harmonic instruments. It is because the strings are "open," with one pitch activating or ringing frequencies in the upper and lower octaves of the instrument. These harmonics or overtones are immediate as the sound board "kicks out" the vibrations to the listener. Paradoxical in nature, the harp's harmonics are so gentle, soothing and comforting, but also very powerful, healing and spiritual.
From a historical perspective, harmonics were used in medieval and renaissance music. Until 1820, musicians learned about harmony, chord structure, inversions, modulations and progressions. It is likely that they listened closely to each other, played intuitively and followed the musical flow. Then, in 1820, music shifted as classical composers (Mozart, Beethoven, Grieg, Liszt, etc.) began writing music note-for-note, exactly as they wanted it played. Melody lines overtook the harmonic structure. And now, the HBB conference theme would suggest we are moving into whatever is next at a harmonic level to help the world evolve and elevate to a higher level of consciousness.
I believe this theme and experiential presentation resonated with the audience because they gave a standing ovation! I have had a few standing ovations in my speaking career, but this one felt extra special. Perhaps it was because it was also my birthday and it felt so honoring!!