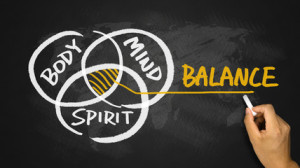 The harp is a very spiritual instrument and our work is very spiritual. Spirituality is the fourth area of well-being that we will cover in these blog posts.
We find again and again that a spiritual practice (meditation, prayer, quiet time, centering, etc.) helps to build our resilience, as well as survive/thrive in the world today.
The spiritual/metaphysical connection occurs as the harpist grounds (connecting to the Earth) and taps into the heavens, then the music can flow through our fingers and bodies, and through the instrument. This is the process of channeling – allowing Spirit to flow through us. Our body/mind/spirit pathway is:
Align our physical body
Channel love: universal quality
Bring out the harp's best harmonics
Create a circle for healing (keep in mind the harpist's body is round – our elbows up create a circle around the harp, our hand position is round, our fingers curve inward forming another circle, etc. – and all of this helps make the music is round).
This model of spirituality explains the spiritual process of making music:  We connect then flow, co-creating with Spirit and back to connection; it is a circle of spirituality and healing.
And finally, it is important to listen to the energetic, spiritual messages our bodies give us. For instance, do you feel energy in your fingers, heart, shoulders, hips? (It can be anywhere and the point is to be mindful of our own body.)
As we connect to our own spiritual well-being, it deepens our music and the healing that occurs.