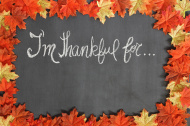 In our monthly e-zine last November, we suggested this meditation and we had so many positive comments, we decided to share it here!
A simple gratitude meditation:
Connect with your heart by taking several deep breaths.
Smile as you think about everything that is right in your life.
Radiate this good energy into the world.
Here's to a lovely Thanksgiving season…