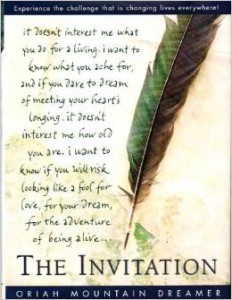 When Barb Schommer and I presented our Self-Care Salon at the recent Mayo Clinic Holistic Wellness conference, we opened with a brief reading from the book, "The Invitation" by Oriah Mountain Dreamer.
Are you familiar with it? It is a prose poem that sparks reflection and is a declaration of intent. The beautiful words connect to the soul. Here's just a short excerpt to inspire you:
"It doesn't interest me what you do for a living. I want to know what you ache for, and if you dare to dream of meeting your heart's longing.
I want to know if you can see beauty, even when it's not pretty, every day, and if you can source your own life from its presence…."
This beautiful book is available here. You are invited…