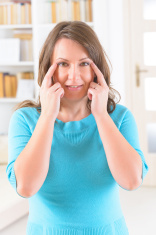 "Take a day to heal from the lies you've told yourself and the ones that have been told to you." ~Maya Angelou
I recently came across this powerful quote and it reminded me of something I've recently been exploring … tapping! (not toe tapping, but tapping on seven points on the head and upper body area).
The whole point of tapping is to "rid" our body/mind/spirit of any negative messages, just as the Angelou quote says. I have found tapping to be a profound healing experience! If you would like more information, here's two resources:  Nick Ortner of the Tapping Solution and Margaret Lynch.
In a nutshell, tapping helps move us out of our Reptilian brain and into our executive brain (pre-frontal cortex). It also helps us relax and feel calm to make even better decisions. Doesn't all of that sound awesome?!! Can you see why I'm enjoying this new experience of learning to tap?!!