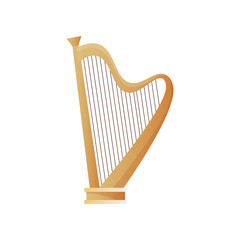 You have likely seen the book or heard the expression, "All I Really Need to Know, I Learned in Kindergarten." Well, recently on Facebook, I saw a post (and I don't know who posted it – otherwise, I would give you credit), "All I Need to Know About Life, I Learned from a Harp." (I am also not sure who the author of the sayings is – again, I'm happy to give credit once I learn who wrote it.)
Some of these are quite applicable to our times:
Take it one note at a time.
Never stop playing.
When in doubt, gliss. (For non-harpists "gliss" means glissando – what the harp is best known for!)
Hug your harp and you will vibrate.
Some days it's OK to be out of tune.
Life is not a dress rehearsal … harp on it!
Heaven can wait – harpists are pre-registered.
Buzzing is a sound in nature.
Touch someone's harp – go to jail. That's the law!
We love the harp and hope you do, too. Enjoy … in joy!