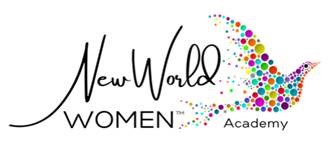 I recently found out about a new organization that I am very excited about … it is called New World Women Academy. Its mission is to reward women for expanding our wealth consciousness and nurturing ourselves, utilizing a unique profit-sharing model/referral system. It is a two-tier Friend network/referral/affiliate system; it is not an MLM (multi-level marketing).
I have followed one of the Founders' work (Dawn Morningstar) for several years. She and the other two Founders (Mecca Page and Shawn Vougeot) are ready to "flip our current socio-economic paradigm on its head." After participating on several Zooms with them, I believe New World Women is a high vibe tribe and very "clean" money!
They will launch on October 1, 2021; between now and then, they are seeking 200 First Founders Circle women or as they call us, their "inner circle." (These Founders Circle members are pre-paying subscriptions to provide seed money to launch.) Also, at this link you can review the special promotions (bonus points) for signing up early.
I will also be speaking and playing the harp for this group on September 16th. If you would like to attend, you can be my guest … just let me know and I will make sure you get included. And of course, don't worry if you are from out of town because the session will be on Zoom so literally anyone from around the world can attend!!
Finally, I invite you to visit their website to see if it resonates with you, your sisters, granddaughters, soul sisters, etc. Collaboration is queen! And give me a call (952-829-1919) if you want to talk more about this … I'm happy to answer questions if I'm able. Here's to our expanding wealth consciousness in six key areas …

Join in the excitement of this special community and let's do this together!