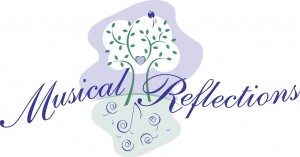 Several people have recently asked me about Musical Reflections' logo. Do you like it? Does it "speak" to you?
A bit of background about it … when I was setting up the company in 1999, I hired a company to design it. They asked me many different questions and came up with several options. This is the one that spoke to me … so that it could speak to you!
Each of the logo elements incorporates different aspects of Musical Reflections' mission.
The logo represents how we use music for growing, healing, feeling hope, and caring from the heart.
The tree symbolizes transformational growth and portrays the harmonious relationship between music and nature. The tree's fullness communicates the company's strength; the branches depict reaching out, caring for ourselves and others; the heart in the center is where healing begins. The root system, which is the tree's life support, is illustrated by a musical note, representing our organizations' solid foundation in music. The butterfly, soaring to new heights, reminds us of hope.
The logo's colors, green and purple, are significant. Green symbolizes growth as well as change; it embraces rebirth, regeneration, and renewal. Purple, a spiritual color symbolizes contemplation and reflection.
Does the logo stand the test of time? Well, its' been almost 15 years ago when it was developed and the elements remain true today!  We'll see what happens in the next 15 years…