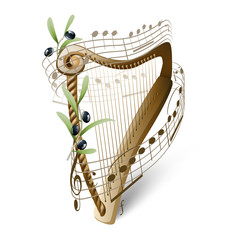 In this blog post, we will share the "Scope of Practice" for being a Certified Harp Practitioner.
A Certified Harp Practitioner's practice is to use the intrinsic healing elements of live harp music to provide an environment conducive to the human healing process. (Healing is defined as movement toward mental, physical, emotional and spiritual wholeness.)
Requirements in the following categories are required to be a Certified Harp Practitioner:
Musicianship
Demonstrates/applies knowledge of basic music theory and techniques.
Improvises and plays music in a fluid, musical fashion.
Plays appropriate repertoire.
Is sensitive to the mental, physical, emotional and spiritual needs of the patient.
Professionalism
Uses appropriate interpersonal skills, etiquette, and legal, ethical and moral judgment, when interacting with patients, families and hospital/hospice staff; adheres to a strict Code of Ethics. (Stay tuned for our next blog post.)
Presents a positive, mature and professional image in manners, communication and dress.
Respects diversity of cultural traditions, values and musical preferences.
Demonstrates a responsible attitude about personal identification, documentation, scheduling, infection control, hospital equipment and privacy.
Focuses on the welfare of the patient above all else in a compassionate and non-judgmental manner.
Works within the determined scope of practice of therapeutic musicians; seeks appropriate assistance when needed.
Engages in appropriate self-care and continuing education.
If you are interested in learning more or wish to have me play at the hospital or hospice bedside for you or your loved one, please contact me.