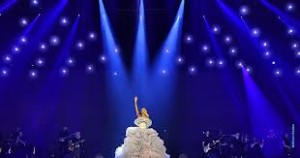 It was many years ago when I last attended a live music concert. And for my "big" birthday this past summer, my sister gave me a ticket for the Celine Dion concert in Minneapolis on November 1st.
To say I loved it is a huge under-statement!! It was AMAZING! She was a dynamo who has an incredible singing voice and is so physically fit. Everything – from the lights to the décor to her costume changes to her fabulous band – was perfect and so well done.
This concert was her introduction to her newest album called "Courage." It's an anthem to all that she's been through in the past – the loss of her husband and brother within a short period of time. She sang a couple songs from this new album and while those weren't my favorites, it is hard to say what was my favorite. In other words, each song just kept getting better and better!
The next morning, I jumped on-line to read the reviews. I'm happy to report others liked her concert as much as I did! I can't wait until she returns to the Twin Cities … and yes, I'll be a definite to attend!!