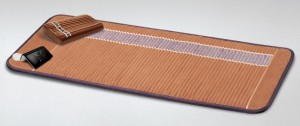 Occasionally, I post a blog entry about the BioMat – a product that I love and rep! Now that the evenings are getting cooler and winter is fast approaching, it feels like a great time to mention it again … and it is also a perfect holiday gift for yourself and those you love!
The BioMat is an unusual triad of elements and this chart lists the benefits that go along with each element:
| | |
| --- | --- |
| BioMat Element: | Health Benefits |
| Amethyst | Detoxification |
| Infrared Heat | Heats from the inside-out and opens up our circulation |
| Negative Ions | Make us feel good! |
Of course, the product does so much more, but this is a short, easy-to-digest summary of its powerful healing potential.
Click here for more information.