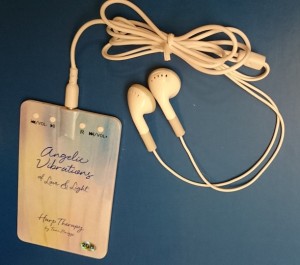 We hear this a lot and it is our joy to offer a really different and unique music gadget for all the special people on your holiday list:
Angelic Vibrations (pictured) is an MP3 player, pre-loaded with 4 hours of harp music. It is the size of a credit card, and comes with ear buds and easy-to-use instructions. and all is self-contained in a small plastic box. More info is available at /music-devices/.
And finally, our downloads (150 songs!) and 13 harp CDs are not "gadgets," but they are also available!
If you have questions about any of these gift ideas, reach out to us at Tami@MusicalReflections.com or 952-829-1919. We will do our best to help you determine optimal holiday gift choices for those on your list!