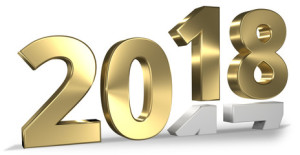 Are you breathing a sigh of relief that the holidays are over? We are, too!! Whew … we made it!
New Year's is a welcome break with very limited expectations compared to all the busy-ness of Christmas! As we reflect on the year ahead, we are consciously choosing to "ramp up," but in a very mindful way. Our selected focus word for 2018 is gratitude. We will share more about this journey as the year progresses…
And over the next few days, we will be setting our yearly intentions. Have you created your list yet?