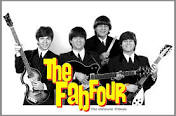 Some friends called last-minute to offer a ticket to the Fab Four concert. (They are a Beatles tribute band and were playing in downtown Minneapolis on a very cold Minnesota night.) The concert was a "blast from the past" of many favorite Beatles tunes.
As a musician, there's something special about attending a live event. And it always feels good being entertained … an exercise in "filling my well." It was definitely a fun outing!!
Of recent, there's been a lot of publicity about the Beatles celebrating 50 years. It has been fun to reflect on what an important legend they've been around the world with music and pop culture. Their music rang true back then and it still seems timeless, touching a chord within the listener. They really were the FABULOUS FOUR!!