Many people have asked what is a Certified Harp Practitioner (CHP). Being a CHP is obviously something I'm very passionate about!
To receive this certification, I completed an approved therapeutic musician curricula with a focus on the harp from the International Harp Therapy Program (IHTP). I have also continued to keep my harp therapy practice current by attending the necessary courses to obtain Continuing Education Units (CEUs).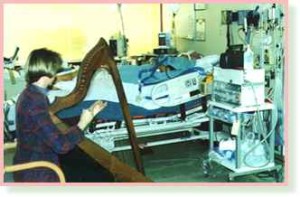 This includes participation in conferences, workshops, lectures and webinars on a variety of approved topics relevant to the field of therapeutic music and musicianship. The approved Continuing Education activities have been the equivalent of 20 hours every two years, and directly relates to and enhances my work as a therapeutic harpist.
The combination of past educational study and current-day CEUs allow me to provide therapeutic music at the hospital and hospice bedside with great care and passion. I am available to play the harp for you or your loved one; if you wish to discuss my services, please contact me.