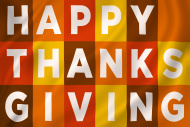 For the past several years, I've made a list at this time of year of what I'm most grateful for. This year, my list includes being in gratitude for:
My "gigs" – they are still my heart, my passion and I so appreciate these opportunities to share.
Having clients say "Yes!" to my newest information on intention (and of course, playing live harp music during reflection exercises).
My dear connections to the Mayo Cancer Care Center, SD Parkinson's group, Association of Professional Chaplains organization, Holistic Health and Healing Summer Institute conference, both regional and local The Compassionate Friends group, Gillette Children's Hospital, etc.
The expos, health fairs and conferences where I met so many wonderful people.
All my travels – new experiences, new people – make me smile with wonderful memories.
Customers who said "Yes!" to my newest product, Angelic Vibrations. It is always a risk to introduce a new product ad when you say "Yes!" and order, it makes my heart sing!
Those who purchase CDs and books – both retail and wholesale customers. I so appreciate your continued support!
So, as you can see, there's SO much to be grateful for … and isn't gratitude the most lovely feeling in the world!