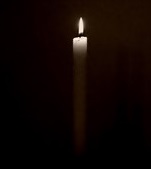 As many of you know, "darkness" kinda goes along with my harp work – many times, I am experiencing people at their most vulnerable, painful and "dark" time.
It is vital to be present to these times and frequently, when we "sink" deep into the darkness, hope and healing happens. Yes, it's a mystery, but I see it time after time.
This George Chakiris quote says it beautifully, "No matter how dark the moment, love and hope are always possible." Important to remember – on many levels – these days, right?!