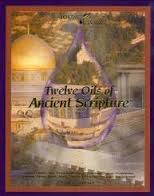 I am excited to announce a new retreat called "The Gift of Divine Anointing with Angelic Harp Vibrations."
Co-facilitated with Catherine Mullaney, you will experience the gift of Divine Anointing – heartfelt prayer, meditation, healing and holy oil treatment with therapeutic harp vibrations – during this day-long retreat.
Each of the 12 oils of ancient Scripture unifies you with your Divine Creator and nature. Cathy and I will share information about each of the oils' healing properties and practical applications. We will also discuss how these 12 oils can bring comfort and hope to you and your loved ones. The addition of my harp music orchestrates the vibrations and frequencies to intensify this healing experience, bringing peace and reverence to the day.
This retreat is a sacred time. Plan for profound blessings and insights, inner peace, beauty, love and soul nourishment. All love-based spiritual paths are invited to attend.
The price is $125/person with a limit of 30 people per retreat. We will be hosting retreats on May 7, July 16, September 17, October 22 and November 12. Come join us! Click here for more information.