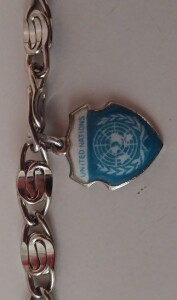 When United Nations of Harpists launched in February 2021, we were a Zoom gathering of 28 harpists from eight countries + one of my dear friends who is not a harpist, but asked, "Can non-harpists also be a part of this group?" Of course, I said yes!
After our first meeting, this friend called me and said, "When I was 10 years old, I attended the World's Fair in New York City. On that trip, we toured the United Nations … my family bought me a charm for my bracelet that I've kept for 50+ years! And now, because of your new organization, I'm gifting you with this charm." (see photo)
I am so touched … what a beautiful gift and so very meaningful! Thank you to my special, dear friend!!