PRESENTATION TOPICS OVERVIEW
•  Music in the Health Care Environment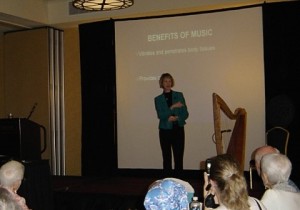 •  Sound Care (for well-being and everyday life)
•  Relaxation, Reflection and Rejuvenation
•  Women's Issues and Healing
PRESENTATION TITLES
Several different presentations are offered to a variety of audiences:

PROGRAM STRUCTURE
Tami's presentations:
Connect with audiences through powerful stories and music examples – a blend of practical tips, immediate applications and self-rejuvenation.
Offer a different perspective about music's power in our everyday lives and in the healing journey.
Deliver an experiential, therapeutic program that is inspiring, motivating and encouraging, but also deeply peaceful and relaxing – a much-needed "commodity" in our fast-paced world.
PROGRAM OUTCOMES
Her presentations inspire and nurture participants with beauty, peace and reflection, providing a forum to:
Explore how therapeutic music contributes to the healing process, both individually and globally.
Experience how music is an integral part of human expression. It often comforts, inspires and speaks to our hearts, as well as helps us to relax and sets a beautiful tone for our daily lives.
Learn about leading-edge work being done to expand human consciousness and raise vibrations of love and peace around the world, including music's role in these efforts.